Using Micro-Learning Effectively in Learning Content Strategy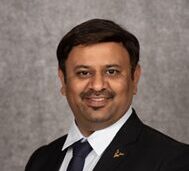 Darshan Parekh (Host)
Deputy General Manager – Field sales, Integra
Darshan currently work as a Deputy General Manager at Integra. His current role involves consulting trainers and L&D professionals across industries. He has experience in strategy building coupled with insights into market scenarios and customer challenges. Professionally, Darshan is passionate about driving customer value by suggesting outcome driven solutions. His education includes MBA in Marketing & IT and a Bachelor's degree in Commerce.
Nitesh Iswalkar (Speaker)
Sr. General Manager, Delivery
Nitesh Iswalkar is a Senior General Manager at Integra. He has been working in the field of digital learning for more than 15 years. He completed his engineering in IT and pursued a career in technology within eLearning domain. He is heading the Digital Learning development team for 7 years.
Download webinar materials
Darshan: Good morning friends thank you for joining us for this webinar on 'Using Micro-Learning effectively in Learning Content Strategy'. This webinar is brought to you by Integra. My name is Darshan and I'll be your host for today.
Now, it's time to meet our speakers for the day Nitesh Iswalkar – Sr. General Manager, Delivery. Good morning Nitesh, thank you for taking your time out to be present on this webinar today.
Nitesh: Thank you Darshan. It's my pleasure to be here today.
Darshan: Nitesh to start with could you please help the audience know you a little better. Could you briefly tell us about yourself?
Nitesh: I'm Nitesh Iswalkar, the Senior General Manager here at Integra. I have been working in digital learning for 15 years. Completed my engineering in IT field and then started my career in technology within eLearning. From last 7 years I am heading Digital Learning development team.
Darshan: Thank you Nitesh. As we all know COVID-19 Pandemic has created unprecedented times, loss of life everywhere, organizations running out of businesses, loss of jobs, the entire globe was and is still under threat and has modelled extremely difficult challenges for all of us.
Can you please tell us about how COVID-19 Pandemic has impacted the training patterns of Learning & Development professionals? What is the paradigm shift you have experienced in the L&D industry?
Nitesh – The COVID-19 outbreak has created a severe impact on corporate Learning and Development (L&D). Also, social distancing has made employers to search for alternatives to instructor-led training. Many organizations are trying to completely convert their instructor-led training to other formats.
Besides, many organizations have reported us that their training budget has been affected severely and they are in need of cost effective e-learning materials which will reduce the production costs.
Moreover, today's workforce does not have time to sit through long hours and go through boring training programs. They are more interested in short streaming programs like binge watch for example.
As the workforce is more on-the-go and the days of taking days or weeks off from work to attend in-person training events becomes less feasible, employers must in essence give the employees what they want and address the need. Basically, employers need to continuously train their workforce and give them the right training when they need it…and quickly.
This is where Microlearning rises and shines. It can solve many problems such as content duration, conventional learning methods, lengthier and boring content, etc.
I am sure most learning and development professionals agree that Microlearning is easier for us to develop from a production standpoint view. Microlearning modules can be created in a very quick fraction amount of time.
Darshan: Thank you Nitesh for sharing these insights. Now let's take a deep dive into today's topic i.e. 'Using Micro-Learning effectively in Learning Content Strategy'. Can you please share some intuitions on why Microlearning is becoming almost inevitable in the corporate learning strategy?
Nitesh: A lengthy formal eLearning or a classroom-based course.
Learners dislike being required to complete large chunks of online training, such as conventional 60- or 90-minute eLearning courses. They procrastinate and avoid it. And busy employees resist having to schedule a training and be pulled away from their work or daily routines to attend training or access eLearning courses.
So, microlearning would be a suitable learning approach for a world of employees with jam-packed schedules, dwindling attention spans, a hundred tasks to do, and a ton of distractions.
Microlearning approach deals with relatively small learning units, each focusing on a single learning objective. In simple words, it is a learning bite of information that a learner could complete in about 5 to 10 minutes to achieve a specific and a smart learning objective. Learners should be able complete a microlearning asset in one go.
Microlearning makes the transfer of learning 15% more efficient. I recently read an article and the study says that 8 out of 10 L & D professionals favour microlearning because their learners want courses with a shorter duration. Learning a piece of content in just 3-5 minutes' leaves a good memory and increases the attention span.
It also reduces development costs there by increases the speed of production/development.
Darshan: Thank you Nitesh for laying down so clearly about why microlearning is inevitable in corporate learning strategy. Can you please tell us if micro-learning is all about chunking the content or is there much more to it?
Nitesh: Yeah. Well, it's not about chunking the content, it's about redesigning it. As the name suggests, microlearning has a short learning structure that doesn't take up much time, and it can fit anywhere. The course delivery time is much shorter and is available to the learner at their moment of need.
Microlearning makes it a perfect way to learn on a smartphone or tablet. It also includes a variety of content types such as videos, audios, GIFs, quizzes, etc., according to one's preferences.
Microlearning can be used for almost any subject or topic. It can also be accessed from almost anywhere and at any point in time.
These small courses that take a few minutes to complete, engage the learners easily from the beginning to the end. Microlearning modules have high completion rates and provide a sense of accomplishment that in turn motivates one to learn more.
As discussed already, studies have shown that microlearning is 15% more efficient in transferring knowledge than any typical classroom training. Research has proved that information delivered in short, focused chunks is easy to learn and remember.
Darshan: Thank you Nitesh! Can you tell us how companies of all sizes use microlearning to get big results?
Nitesh: Sure!
Industries like logistics, healthcare, manufacturing, automobile, restaurants, transport, etc., have experienced the biggest hit due to the outbreak of Covid-19. They are struggling to survive and the first impact is on the L&D budget. But adequate training should be provided to prepare the workforce to tackle the challenges of the new normal.
Besides, employees have to widen their skillsets and knowledge bases in a variety of ways on new technologies. But it is not possible for them to spend more time with longer duration of the content.
Microlearning is one of the most effective platforms of information acquisition. It delivers short bites of learning and is more memorable than long form learning. It helps employees keep and recall information. Eventually it is much more cost effective than the traditional longer duration courses.
There are several microlearning examples to inspire you and help you achieve big results through micro-learning content.
Let's consider Training New Employees. Every organization has different training programs planned for their new hires right. Now you don't want your new employees go through days and hours of learning.
Therefore, Microlearning, with its emphasis on lesser duration courses and byte-sized content, is the best possible way to train employees with limited accountabilities on short notice.
As we know majority of the retail stores be it Clothing industry or FMCG or cosmetics have started their online businesses. So if we consider a popular online food and beverages store, for instance, can use microlearning to familiarize freshly hired salespeople about its products before the festive season. Likewise, businesses in the hospitality industry can influence microlearning to train workforce who are hired to accommodate to the augmented demand during the summer and the holiday season.
Microlearning endows employees in such industries to learn on the go and permits them to refer back to their training material whenever the need ascends.
Let's take another example of industries where employees are performing their responsibilities in Customer-Facing Jobs.
Microlearning also can be a valuable training tactic for customer-facing roles, like those in marketing, customer support professionals such as banking, telecommunications and broadband, tech support, product related support etc. A mutual prerequisite across such jobs is the knack to remember lots of details and to be able to respond to different customer inquiries and demands.
Marketing employees, for instance, got to be up-to-date in product specifications and financing options.
Microlearning, example training cards, has been a tried and tested method which will help employees to undergo many bite-sized information quickly and memorize it effectively.
Employee Onboarding is another common example that I can relate to.
The purpose of employee onboarding is to welcome employees to their new company and provide them the required information. You have to be brief and provide adequate information at the same time. Small small nuggets help us build the approach that microlearning excels at.
A short microlearning course can teach employees all that they have to understand. Combine it with an in-person tour of your organization, probably with a meet-and-greet between the new hires and your senior management, and you will have a way better onboarding experience with just 10-15% of the effort of an outdated onboarding session.
Compliance Training is another best example for Microlearning.
Every organisation be it Automobile, Manufacturing, Healthcare, Consulting and Technology, Software, Energy, Chemical, Petroleum, Oil and Gas and so on have certain mandatory compliance related training. No firm wants their employees to be non-compliant. In my opinion, Microlearning content is uniquely suited to compliance related training. Because you can create a 3-5 min short course on compliance procedures some topics like safety procedures, environmental guidelines, codes of conduct, PoSH and so on.
Darshan: What are some of the best way to create an engaging microlearning course.
Nitesh: Microlearning isn't new. You are probably marveling what's the best way to create an attractive microlearning content.
You can start with some of the practices.
You have to design the content that is device-friendly. Professionals these days use different forms of media such as smartphones, tablets etc.
As discussed earlier, microlearning can be disbursed in shorter intervals and on the go wherever and whenever using any device. Use some rapid authoring tools that makes it easy to develop a receptive learning content.
You'll want to adapt some techniques using horizontal/vertical scrolls and redesigning the content, to make the overall look and feel better.
You have to Slim and Trim your content. You cannot dump pages of content into a microlearning.
Don't try to shove an entire eLearning course onto one slide and call it a microlearning. Each module should have 1 main concept. This way it easier for the learner to retain that information.
You need to be much more granulated and exact. You can't just say "By the end of this course you will learn how to be more dynamic while working from home." That's a very comprehensive statement.
You could, however, say "This module will cover time management skills like calendar blocking and task tracking." And then the next microlearning module could cover actionable tips to minimize distractions at home.
Don't stick to conventional set-up. It's risky to set hard and fast rules, for example "The duration of a Microlearning must under 3-5-minutes." Microlearning can be offered in any digital medium—infographics, smaller chunks of eLearning, informative videos, etc.
Darshan: Well, Nitesh, Darshan, thank you very much for this wonderful insights. Would you like to tell us a bit about do's and don'ts while creating effective microlearning strategy?
Nitesh: Sure.
Here's what you can do while developing a Microlearning topic.
Start with your end users or learners, do an in-depth analysis of what they do.
Break the content into task-level objectives.
Do a survey, ask learners what do they feel.
Filter out the redundant content and pack only the need to know information
Identify the format that creates the most sense for your learners
Present your learners valuable and engaging content
Incorporate gamified elements
Include quizzes and knowledge checks
Some key important points that you must avoid in order to implement a successful microlearning are:
Do not chunk content, redesign it
Do not restrict to one content format for microlearning
Do not use microlearning for everything
Don't complicate a course by adding irrelevant content.
Don't include irrelevant media while developing the course
Do not forget to quantify and improve
You can make use of this user friendly, cost effective option and see how Microlearning can be a big win for your organization. Employees can acquire new capabilities using this convenient and personalized content and, empower and train themselves. You can always start with a one microlearning, and based on the results you can scale up and improve always.
Thank you!
© 2023   |   Integra Software Services Pvt. Ltd.