Powering Content Transformation
Welcome To Integra
Powering Content Transformation
end-to-end digital content solutions, content-focused technologies, and workflow solutions
We work with many of the world's leading publishers —Academic, Higher-Ed, ELT, and PreK-12
digital content development solutions in emerging disruptive content technologies, such as Augmented Reality, Virtual reality, and Mixed Reality.
At Integra, We're at our best when we're crafting content and creating digital transformation solutions for our customers, both through our innovative source-to-delivery workflow offerings, and our digital learning solutions delivered across diverse industry verticals.
We work with many of the world's leading educational content producers and learning-services organizations, and we pride ourselves on more than a decade of these working relationship. These longstanding relationship are witness to our capabilities in delivering measurable business results through content solutions that improve publishing cycle times, boost productivity, and navigate technology Challenges.
Our vision is to be the number one company globally in our space. We aim to be the trusted, preferred partner for our customers through sustained customer satisfaction. We will be an employer of choice, developing global leaders from within, and maintaining the highest standards of diversity & inclusivity. We will enhance stakeholder satisfaction by delivering fair returns. We endeavor to be a leader in corporate social responsibility, enriching the communities in which we operate.
We are a global organization serving customers  to publish knowledge, information, or content. We optimize the total cost of publishing for our customers by offering high quality, reliable, innovative, technology-driven solutions and services through a team of optimistic, joyful, and empowered professionals. We deliver stakeholder satisfaction while being a socially responsible organization.
28 Years of Content & Digital Solutions
Integra is a leading Digital Content Services company, providing content enrichment and learning transformation services to publishers and educational institutions, while also providing workplace learning and development solutions for global enterprises.
2006
Barring invests, world-class production facility inaugurated.
2007
Elm Street was acquired (Hi-ed capability).
Sriram Foundation was established.
2010
Silver Editions acquired.
Inaugurated US office.
Digital and eLearning business unit launched.
Star TV HR Awards 2009-2010 for Talent Management.
Ranked No.2 among the Publishing BPO Service Providers globally in the Black Book of Outsourcing survey 2009.
2011
Japan office inaugurated.
End-to-End Project Management offering launched. One of Time magazine's Top 500 Indian companies
Star TV HR Award 2010-2011 for Talent Management
Wins two awards in the 'Apps for Science' competition conducted by Elsevier:
Integra's app, iHelp, win the Popular Choice Award
Ranked 3rd in the "Apps for Science Challenge" contest
2012
Rights and Permission services launched.
Anuradha Sriram, Co-Founder, and JMD nominated as Chairwoman, Indian Woman Network (IWN), Puducherry Chapter (an initiative of CII).
Adjudged as the top 5 finalists for "Excellence in Gender Inclusivity" by NASSCOM
2013
Creation of Products and Platforms (IPs).
2014
Promoters buyback from Barrings.
2015
Corporate eLearning is launched.
Became ISO 9001:2015 certified company that adapted the Six Sigma processes. 
2016
Chennai office inaugurated.
Developed the capability to handle 800 journals, 6000 books, and deliver 5 million pages of content per year.
Partnered with Metrodigi.
Reached 1000 employees globally.
Integra's Human Anatomy App wins Silver Award in Training Magazine's, Learning Design Challenge in the Mobile category
Integra is a 2016 Working Mother & AVTAR 100 Best Company for Women in India
Obtained ISO 27001:2013 Certification for Information Security Management System.
2017
Pune, Bengaluru, and Delhi offices inaugurated.
Integra won the 2017 Working Mother & AVTAR 100 Best Company for Women in India for the second time
2018
Hired our 1800th employee.
For the third time in a row, Integra is one of the 100 best companies for women in India (Working Mother & AVTAR)
2019
Won the Working Mother & AVTAR award for "100 Best Companies for Women in India" for four consecutive years.
Won Exemplar of Inclusion Award 2019.
Awarded 3 awards under the DivHERsity Awards 2020 – Top20 Most Innovative Practices – DivHERsity Hiring, Top20 Most Innovative Practices – Women L&D Programs, Top20 DivHERsity Champions (Large Enterprises).
2020
Won the Working Mother & AVTAR award for "100 Best Companies for Women in India" for 2020 for the fifth time in a row.
2021
Yet again Integra wins the covered Top20 DivHERsity award for MOST INNOVATIVE PRACTICES
Hiring  | Policies | Women L & D | DivHERsity programs 2018, 2019 & 2020  
2022
Integra bags the coveted Top20 DivHERsity award for the Most Innovative Practices.
DivHERsity Policies, DivHERsity Programs, DivHERsity Hiring, and Women L&D Programs for the fourth consecutive year since 2018.
CK Ranganathan
Non-executive Chairman of the Board and Independent Director
CK Ranganathan, the Founder Chairman of CavinKare, is an inspirational leader and astute entrepreneur, who is one of the pioneers in the beauty and personal care products industry in India; he is an innovator who devised strategies to capture huge market shares from established multi-nationals in India.; CavinKare has now made inroads into international markets with its wide range of products.
As an independent director on Integra's Board, he brings tremendous dynamism to the brand, adding the marketing X-factor with his vast entrepreneurial experience of 35 years. His business acumen of 35 years contributes to creating better strategies for growth and management. CK Ranganathan's valuable inputs add the marketing X-factor to Integra.
CK Ranganathan was conferred the prestigious 'Entrepreneur of the Year' award in 2004 by The Economic Times. He was Chairman of the Confederation of Indian Industry (CII), Tamil Nadu State Council, in 2009–10. He is one of the founding members of the Ability Foundation, an NGO working towards the rehabilitation of the physically challenged. In honor of his father, he instituted the Chinnikrishnan Innovation Awards in 2011. He is also involved in various philanthropic activities particularly in the field of education.
Rangan Mohan
Independent Director and Audit Committee Chairman
Rangan Mohan is a visionary in the IT and BPO space, with an experience of 32 years in leadership positions, championing the growth of these technology companies. He is an engineer with an MBA from IIM, Ahmedabad. A name to reckon with, he founded Rangan Mohan Associates in 2006, which provides consultation on business strategy and leadership coaching.
Currently, an Independent Director on Integra's board, Mohan brings years of experience to the company in growing and managing technology BPOs. Having worked with renowned global IT and BPO companies, his wealth of expertise in domains such as video embedded software development, business intelligence, and voice and data BPO Services is of huge strategic advantage to Integra.
Mohan has held leadership positions in these companies:
CEO and President of Hinduja Global Solutions from 2001-2006. He grew the company from 300 to 7000 employees. HGS provides voice and data services across domains like Healthcare, Insurance, etc.

CEO and President from 2000-2001 of Global Edge Software, which offers solutions in embedded software to verticals like Semiconductors and Industrial Automation.

MD and CEO of BFL Ltd., from 1994-2000 involved in setting up and running offshore development centers. He also headed Sales and Marketing.
Sriram Subramanya
Founder, Managing Director, and CEO
Sriram Subramanya is the chief visionary behind Integra's meteoric growth and believes in pushing the boundaries of innovation. With the global content industry undergoing rapid transformation, Sriram's entrepreneurial vision has been the foundation of Integra's success over the last 27 years. Under his leadership Integra has transformed into one of the top 10 digital content services providers in the world. His philosophy that happy, empowered employees are the key to delivering exceptional customer experience, enables the delivery of transformational digital-first services. 
As a future-focused leader, Sriram believes in harnessing the power of technological innovation to identify new growth opportunities and stay ahead of the curve. He is an Executive Council Member of NASSCOM, the trade body of India's USD 150 billion IT industry and also the Vice Chairman of the NASSCOM SME Council – a platform that supports the growth of small and medium size IT companies. Through his position as Chairman of the CII Southern Region Start-up and Entrepreneurship Forum, Sriram works towards creating a robust start-up ecosystem. He is enthusiastic about sharing his passion for entrepreneurship and has co-authored 'The Manual for Indian Start-ups' to inspire and guide entrepreneurs during the initial years of their start-up journey. 
Sriram is also passionate about creating long term, sustainable environmental impact beyond the workplace. His societal and community initiatives under the Sriram Charitable Trust have benefited underprivileged people in the areas of healthcare, women empowerment, education and rural upliftment. By setting up a model organic farm and supporting social forestry, Sriram hopes to promote environment-friendly and sustainable farming practices. These initiatives stem from his belief that individuals and organizations need to take personal responsibility for tackling climate change and creating a greener, healthier planet.
Anuradha Sriram
Co-founder and Joint Managing Director
As a co-founder, Anuradha Sriram has been a very dynamic force in the growth story of Integra since its inception. She has been at the forefront of many key initiatives in areas of Finance and Technology and has also helped design and mentor leadership programs towards better Human Resource management. She also laid a strong emphasis on customer engagement and delivering quality.
Anuradha has also been active in leading CSR activities at Integra, such as women's welfare and community welfare schemes. Her invaluable efforts towards women's empowerment had not gone unnoticed, and Integra won the NASSCOM Corporate Award for Excellence in Gender Inclusivity in 2006.
Anuradha has held prestigious positions for industry bodies. She was the Chairwoman of Indian Women Network (IWN), Southern Region, a CII initiative to help mentor career growth for women.
Anuradha holds a bachelor's degree in engineering and a master's degree in management.
Sagayaraj Irudayaraj
VP, Production (Academic Content Services) and Technology
Sagayaraj has more than two decades of experience in the publishing domain. At Integra, he is in charge of nine different production units servicing leading global publishing houses.
His key responsibilities include providing continued excellence in service as well as in strategic direction. He has been instrumental in setting up various dedicated functions for Industrial Engineering, Vendor Management, Central Graphics, and IT Support. His forte lies in translating his deep understanding of publishing markets, so as to anticipate and ramp up capacity, as per client requirements.
He has been well recognized for his contribution toward streamlining operations within Integra, so as to deliver success spirals.
Harish Agrawal
Chief Technology & Product Officer
Harish is a creative business leader with over two decades of diverse industry experience in building and leading product businesses. He has an outstanding track record in B2B SaaS products and has been instrumental in launching numerous large-scale technology products with millions of users. His expertise in building strong market positions and creating effective go-to-market plans aligns perfectly with our business goals.
Venkatesan Meenakshisundaram
Chief Operating Officer (COO)
Venkat fuels the operational innovations at Integra. As the Chief Operating Officer, Venkat handles multiple roles spanning strategy to execution, driving customer success, winning partnerships, developing new process innovations, leveraging technology for enhanced service quality, developing and nurturing people management, partnering with HR for employee satisfaction and success, and optimizing operations & service processes at Integra. A veteran leader with nearly three decades of industry experience, Venkat deeply engages in Integra's expansion, supports tactical initiatives, leads high-performing senior teams, defines robust digital strategies and implements business plans for Integra's profitability. Passionate about spreading knowledge, he often delivers lectures in academic and management institutions. Venkat holds a B.E. degree from the University of Pune, specializing in Printing Technology.
Piyush Bhartiya
Senior Vice-President – Key Account Management and
Global Corporate eLearning
Piyush Bhartiya has been instrumental in expanding the international footprint of Integra and building long-term relationships with clients. He is the Senior Vice-President of Key Account Management and Global Corporate eLearning at Integra. Piyush's expertise is in revenue generation from new and existing customers, in addition to devising and implementing high-quality, cost-effective, timely, and compelling solutions for global clients. He is a skilled professional with over twenty years of extensive work experience across different verticals including Digital Content Delivery, eLearning, Sales & Marketing, Digital Transformation. Outside of work, Piyush is an avid follower of individual and team sports and loves to go on long drives and road trips with friends and family.
Sonia Gupta
VP – Marketing
With over 16 years of experience in B2B marketing, demand generation, branding, and customer marketing, Sonia is a seasoned professional in both products & services. Her extensive experience in product marketing in the education sector has been invaluable, and she has played a pivotal role in devising effective marketing strategies, building high-performing teams, and consistently improving lead generation and revenue performance for growing organizations.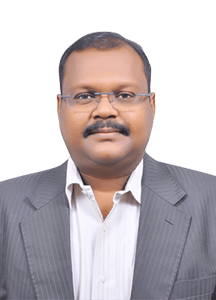 Ganesh Prasath
Associate Vice President – Finance
Ganesh Prasath is the driving force behind transforming Integra's business performance and digital content services. He heads the finance department, and spearheads financial planning and analysis across Integra's global operations. With extensive industry experience spanning more than 20 years, Ganesh handles accounting, auditing, corporate governance and cost management, and works closely with Integra's Board of Directors. Ganesh is an alumnus of the Institute of Chartered Accountants of India (ICAI). He holds a bachelor's degree in commerce and a master's degree in financial management. Beyond work, Ganesh is passionate about farming & cattle ranching. He loves going on long drives, gardening, listening to music & watching movies.
Daisy Michael
Vice President – International Operations & Quality
Daisy, with more than two decades of experience in the publishing industry, manages Integra's operations in the United States and Japan. She is responsible for managing operations across different verticals, setting up new functions and services in Integra that include Central Quality, Editorial Services, Project Management, Rights & Permissions, and Content Services. Daisy also dons the mantle of Quality Management Champion, spearheading the various quality initiatives at Integra and implementing best practices.
Greg Simmons
Vice President – Business Development
Greg joins us as Vice President for Business Development and will lead the team in new customer acquisition and also in the development of cost-optimized solutions to drive customer delight. A dynamic and accomplished leader with more than two decades of professional experience in the education sector, Greg has been instrumental in helping firms expand, cultivate profitable connections, and put in place revenue-focused go-to-market strategies.
Hemant is a seasoned Business Development expert specialized in Corporate Sales and Account Management. He brings tremendous value to the table with dynamic experience working with some of the world's leading publishers, EdTech companies, libraries, content aggregators, media companies, and with copyright, government, and federal agencies.
Kavitha Jayasankar
Vice President – HR
Kavitha is an accomplished HR professional with an impressive 25-year track record in the field. As the Head of HR at Integra, she brings a wealth of expertise and knowledge to the organization. Throughout her career, Kavitha has demonstrated a strong commitment to creating thriving workplace environments by championing employee well-being, fostering diversity and inclusion, and implementing effective talent management strategies. Her extensive experience has equipped her with a deep understanding of the ever-evolving landscape of human resources, enabling her to lead Integra's HR department with a unique blend of strategic insight and practical know-how. Kavitha's dedication to nurturing the company's most valuable asset—its people—makes her an invaluable leader in the field of HR.
© 2023   |   Integra Software Services Pvt. Ltd.