The age of AI is upon us. As we journey further into the digital era, Artificial Intelligence (AI), including the burgeoning field of Generative AI, is taking a pivotal role in the transformation of businesses. The power of AI and Generative AI to amplify productivity is undeniable. However, realizing their full potential calls for careful strategizing and meticulous planning.
Formulating a Tailored AI Strategy
Harmonizing your AI initiatives with your business strategy is crucial. This applies to both conventional AI and Generative AI, which has the power to "generate" text, speech, images, music, video, and even code. When formulating your bespoke AI strategy, your short-term and long-term business goals should be at the forefront of your considerations. Statistics show a notable increase in the adoption of AI and Generative AI technologies like natural language processing, and computer vision. However, for a significant AI return on investment (ROI), a strategic approach is absolutely necessary.
Here are some vital steps to create an effective AI strategy:
1. Understand Your Business Challenges: Before immersing yourself in AI, evaluate your current technical capabilities and future needs. Identify areas where your organization can develop and support AI and Generative AI solutions. It's crucial to address business issues where AI can provide substantial value. Setting up dedicated teams for identifying such processes will be beneficial. A successful AI strategy should not only solve your current challenges but also utilize technology to drive business growth.
2. Choose the Right AI Technologies: Making strategic decisions about technology is pivotal for successful AI implementation. Before embarking on this journey, it's crucial to evaluate and invest in the technology stack that is most suitable for building Machine Learning (ML) and AI solutions. The chosen technology will equip your development teams with the necessary resources to effectively implement and integrate AI models. However, choosing the right technology is not just about pursuing the most advanced solutions; it also involves considering cost-effectiveness and effectiveness. If traditional automation can accomplish the task just as efficiently as Generative AI, it would be a strategic decision to opt for the more economical and practical solution. At Integra, we prioritize the balance between innovation and practicality to deliver solutions that best meet your business needs.
3. Master Data Management: Your private data is a crucial differentiator that can add substantial value to your business when used wisely. AI and ML models necessitate the right kind of data to function optimally. We assist you in creating an all-encompassing data management strategy to ensure your AI/ML models receive the correct type of data. This empowers effective model training on your distinct historical data and enables accurate prediction of future trends as well as give you insights on the past. Leveraging the uniqueness of your private data, we can create custom models that propel significant business value. Therefore, formulating a strategic data plan becomes an integral component of your AI journey.
4. Secure the Right Talent: Developing AI capabilities requires specialized skills, and at Integra, we place significant importance on acquiring and nurturing this talent. We follow a rigorous hiring process to secure top-notch professionals in the field. Furthermore, we also invest in an effective and ongoing training program to keep our AI team up-to-date with the latest developments in AI. Whether you're a tech company seeking to build these skills in-house or a business considering partnerships with AI service providers, we stand ready to guide you along the best path forward, equipped with a team that's at the forefront of AI advancements.
Exploring the Landscape of Practical AI Use Cases
1. Language Processing AI: Leverage advanced deep learning models to distill meaningful insights from unstructured text data. This kind of AI application can transform a bulk of unstructured information into actionable insights that drive decision-making.
2. Personalized AI Systems: Harness cutting-edge, real-time recommendation models to augment user engagement and business revenue. These AI systems can tailor user experiences based on individual behaviors and preferences, thus improving customer satisfaction and retention.
3. AI for Forecasting and Planning: Implement autonomous deep-learning-powered services to streamline your forecasting and planning processes. These AI solutions can predict future trends and demands with high accuracy, making your strategic planning more effective.
4. AI in Marketing and Sales: Utilize AI to supercharge your growth strategies. AI can help you identify high-quality sales leads, deliver personalized promotions, and minimize customer churn. The intelligence provided by AI enables a more focused and efficient approach to marketing and sales.
5. AI Agents: Deploy AI-powered enterprise applications, or "agents," for specific tasks. These tasks can range from operating custom chatbots and summarizing large volumes of data, to translating code and generating content. AI agents can automate and optimize a variety of business processes, enhancing productivity and efficiency.
Empower your business to seamlessly transition into the AI era, effectively managing potential risks and harnessing the transformative power of automated workflows, virtual assistants, and Generative AI. Integra provides expert guidance to ensure your AI implementation is future-proof, allowing you to unlock limitless possibilities for growth, innovation, and sustainable success.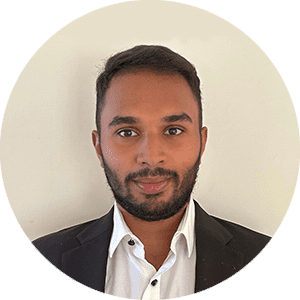 About Author
Dhanvin Sriram
Executive Director, Technology Services