Artificial Intelligence (AI) has emerged as a transformative force, reshaping the way businesses operate. Among the array of remarkable AI advancements, ChatGPT, developed by the ingenious minds at OpenAI, stands out. ChatGPT has garnered significant attention for its content creation capabilities, but its true potential extends far beyond that. With over 100 million current users, let us delve into the expansive possibilities of ChatGPT and examine how it can revolutionize businesses across various industries. With its ability to automate customer support, generate personalized content, streamline data analysis, and foster team collaboration, ChatGPT emerges as a versatile tool that can drive businesses towards unprecedented growth and success.
Wondering what is ChatGPT and how ChatGPT works? ChatGPT is an advanced language model built upon the powerful GPT-3 architecture. It has been trained on huge amounts of data, enabling it to generate human-like responses to user queries. By leveraging deep learning algorithms, ChatGPT can understand, process and respond to natural language queries, making it an ideal solution for businesses seeking to augment their customer-centric activities.
How Businesses Can Leverage ChatGPT?
ChatGPT can be leveraged by various business functions to enhance efficiency and provide customized services to customers. Here are some ways different business functions can utilize ChatGPT:
1. Sales: Two major areas where ChatGPT can help Sales are Lead Qualification and Sales Support. ChatGPT can interact with potential leads, ask relevant questions, and qualify them based on predefined criteria. ChatGPT also can act as a virtual assistant or chatbot to automate customer interactions. ChatGPT can handle general queries, provide instant responses, and escalate complex issues to human agents when necessary, reducing response times, improving customer satisfaction, and enabling businesses to offer round-the-clock support. According to a study by Salesforce, 64% of customers expect companies to respond to their inquiries in real time.
2. Research and Development: ChatGPT can play a crucial role in several aspects of Research and Development. By leveraging its natural language processing capabilities, ChatGPT can explore various possibilities for product development and offer new ideas and fresh perspectives. In the realm of competitive analysis, ChatGPT can analyze competitor data, extract valuable insights, and provide concise summaries and actionable recommendations. This enables businesses to make informed decisions based on a comprehensive understanding of the competitive landscape. Additionally, ChatGPT can serve as a technical assistant, aiding R&D teams by answering technical queries, providing relevant documentation, and assisting in troubleshooting complex challenges. This technical expertise can significantly improve the efficiency and effectiveness of research and development processes, leading to faster problem resolution and enhanced innovation.
3. Marketing: ChatGPT can help marketers generate ideas for content creation and provide suggestions for blog posts, social media captions, and ad copy. It can also help businesses reduce time and money by creating SEO-optimized content catering to business needs. It can also help you interact with customers on social media platforms, respond to inquiries, provide product information, and engage in personalized conversations. Last but not least, it can help you analyze large volumes of data, extract insights, identify patterns, and generate reports.
These are just a few examples, and the potential applications of ChatGPT can vary based on each business function's specific needs and goals. With its natural language processing capabilities, ChatGPT can improve efficiency, automate repetitive tasks, and enhance customer experiences across various business areas.
Can Businesses Rely Only on ChatGPT?
One of the major issues that have been called out regarding ChatGPT is ethical concerns. Businesses must be mindful of potential biases, privacy concerns, and the responsible handling of sensitive information. Another limitation is Context Understanding; while ChatGPT performs impressively in generating human-like responses, it may occasionally struggle with context understanding, leading to inaccurate or nonsensical answers. Continuous monitoring, feedback loops, and training improvements are essential to enhance its performance.
How Can You Integrate ChatGPT into Your Business?
ChatGPT can be integrated into individual businesses in the following ways:
1. Selecting the Right Model: Choose the appropriate ChatGPT variant based on your business needs and budget. OpenAI offers different models with varying capabilities, such as GPT-3 and future iterations that may be released 
2. Training the Model: Fine-tuning the pre-trained model with data specific to your business can enhance its performance and align it with your organization's language and tone. OpenAI provides guidelines and resources for fine-tuning the models. 
3. Integrate into Operations: Integrate ChatGPT into your existing systems and platforms to enable seamless communication and interactions with customers, employees, or other stakeholders. OpenAI provides APIs and developer tools to facilitate integration.
Few Popular Prompts You Can Use with ChatGPT
To leverage ChatGPT effectively, consider using prompts such as:
"Can you provide information about [product/service]?"
"Help me troubleshoot [specific issue] with our product."
"Generate ideas for our [name] marketing campaign."
"Translate this document from [source language] to [target language]."
"Analyze the following sales data and provide actionable insights on trends.
ChatGPT represents a significant breakthrough in AI-driven business solutions. By leveraging its natural language processing capabilities, businesses can automate customer support, generate personalized content, streamline data analysis, and enhance team collaboration. While there are considerations to address, such as ethics and limitations, the benefits of ChatGPT outweigh the challenges. Embrace this transformative technology, select the right model, train it to suit your needs, and integrate it into your business operations.
Integra is an innovative technology company that specializes in AI and Machine Learning solutions, offering a range of services such as AI strategy development, custom model building and chatbot development to help businesses scale and optimize their operations. Leveraging the power of cutting-edge technologies, Integra's solutions are designed to streamline processes, accelerate product launches by 50% and enhance operational efficiency by up to 80%.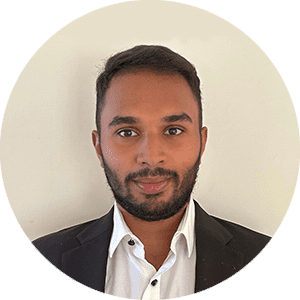 About Author
Dhanvin Sriram
Executive Director, Technology Services